From Seville Oranges on the tree to being prepared from the kitchen with a snowy view - then to the jar ready for our customers. That's what Tom has been up to last week and continues this week.
A huge thank you to all our customers and stockists for their support throughout 2022. It has led to a bumper year. 
We have welcomed New retailers and online customers and trust you will continue to enjoy Berry Fresh Products.
We look forward to working with you and serving you in 2023. Our new website has now been up and running for 3 months so please leave your comments and rate the products.
Last but by no means least a big thank you for those who have sent emails with their kind and valued comments about our products
See what we are up to and recipes using Berry Fresh Products. Tom will also give you tips – "Tom's Tips" – about things he has learnt along the way. Feel free to send your questions in via the contact from and he will do his best to answer them.
Red Onion Tart with Goats Cheese – Makes 4 individual tarts INGREDIENTS 4 Shortcrust 3 – 4 inch pastry cases 3 medium Red Onions 1
Read More »
SATURDAY 10th DECEMBER
LOGGERHEADS CHRISTMAS
In aid of Banardo's
Come and join us from 10am - 4pm in the Car Park of
The Loggerheads
Eccleshall Road, Market Drayton TF9 4PD
Whilst not in the online shop – call or email to place your order. They are available in many of our stockists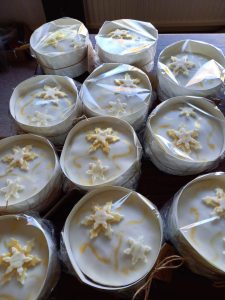 Delicious hand finished Christmas Cakes – now available at the The Bakehouse – West Kirby on the Wirral